Fact or Myth?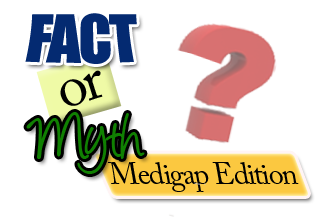 Today, ladies and gentlemen, we're going to play a game of Fact or Myth, Medigap Edition. We'll take you through the common misconceptions of Medicare and Medicare Supplement Insurance Plans.
1. Medicare Part A and Medicare Part B is all I need.
Myth- If you aren't enrolled in Medicare Part D, you could be penalized according to the the length of time you've gone without a Part D plan. You may not currently need prescription drugs, but having this coverage will benefit you later.
Also there are many gaps in Original Medicare. For this reason many people will supplement their coverage with a Medigap plan.
2. Medicare Advantage allows me to go to any doctor or specialist.
Myth- Most Medicare Advantage Plans have list of provider networks which direct you to certain doctors as indicated on their list.
3. Medigap Plan F from Blue Cross Blue Shield offers the same benefits as Medigap Plan F from Humana.
Fact- Medicare Supplement Insurance Plans are standardized so each plan of the same letter designation is that same from each company. The rate at which you purchase the plan, however, will vary according to company.
4. Using an outside resource like a Medicare Supplement Insurance agent is expensive. It's easier to just select a plan on your own.
Myth- Using an agent should not cost you anything. If anything you'll end up saving because their expertise will help you find the most affordable plan available to you.
5. People under 65 can be elegible for a Medigap plan.
Fact- If you have a disability or End-Stage Renal Disease, most states will allow you to purchase a Medigap policy even if you are under the age of 65.
To get more information about Medicare Supplement Insurance plans, talk to one of our Medigap plan representatives today or use our instant quote below.